Keep a Record of Important Health Info for You or Your Elder
Using a Credit Card? At checkout, you are our guest on PayPal.  Just click on "Don't have a PayPal account?" on the Checkout page. PayPal does NOT store your credit information.


A to Z About Me!  The Adult Health and Wellness Organizer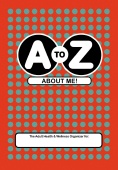 Laura and Brian Smith, KCLB Designs, 147p., 2008 [$8.00]

Act on Care Tip #22, "Keep a Care Log", from CARING FOR A DISTANT PARENT with this companion book.

Knowledge is power when it comes to health. Use the ample space inside to record medical visits, medications, test results, insurance details, and much more for your elderly parent or yourself.